Road Maintenance
Navigate this page via search or the table of contents.
---
Roadway maintenance is a continually improving aspect of our township. A newly paved road looks "good" for a time, but after a few years the roadway begins to change color. This is called oxidation, caused by weather and sunlight. Pennsylvania has the un-enviable distinction of leading the U.S. in the number of annual freeze-thaw cycles. Silty subgrade soils that are highly susceptible to frost heave can cause serious pavement damage. Frigid temperatures and significant snowfall typify the winter months, followed by melting conditions of warmer spring weather that can lead to serious road deterioration. The movement from freeze to thaw can cause extensive cracking. Oils at the surface of the roadway begin to break down and deteriorate, as it drys out the roadway becomes more rigid and will form cracks. As the breakdown continues, the cracks allow more and more water and moisture to infiltrate the road structure. This causes the stones to unravel because the oil is no longer present to hold the roadway together. Rehabilitation techniques are only effective if they are applied at the appropriate times which may not align with available funds or construction schedules.
Annual Seal & Patch Programs (Spring & Fall)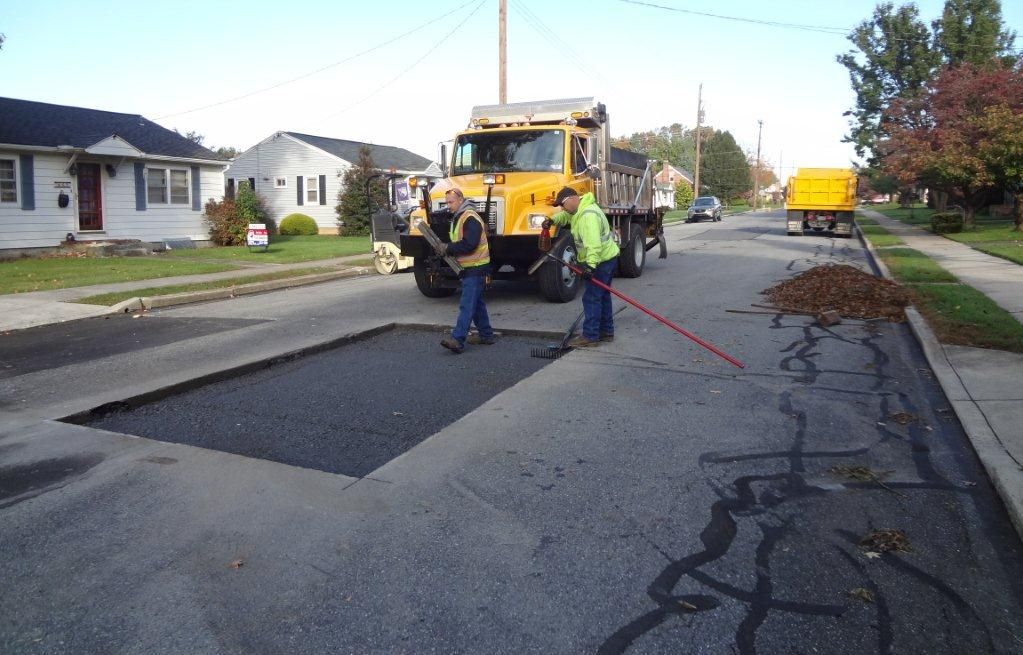 Crews make their way around all Township roads during the spring and fall to seal cracks and repair any broken areas of the roadway. Over time, sunlight oxidizes the oils in asphalt causing it to become brittle and develop cracks. Cracks allow for moisture to seep into the base of the roadway compromising its integrity and can lead to extensive deterioration. Crews clean out the cracks with high-pressure air then apply a hot-pour sealant. A release agent will be sprayed on the sealant if it is in an area where immediate traffic will occur so it will not stick to any passing vehicles. Crack sealing is also performed in areas where cuts and repairs have been made to bond two areas together, much like a caulk.
They will also patch areas in the roadway that have collapsed or broken apart before they become potholes. Our crews do not just fill these holes, they cut out a section of the road, excavate, replace and seal the asphalt creating a lasting patch on the roadway.
---
Resurfacing
Highway Program (Spring/Summer)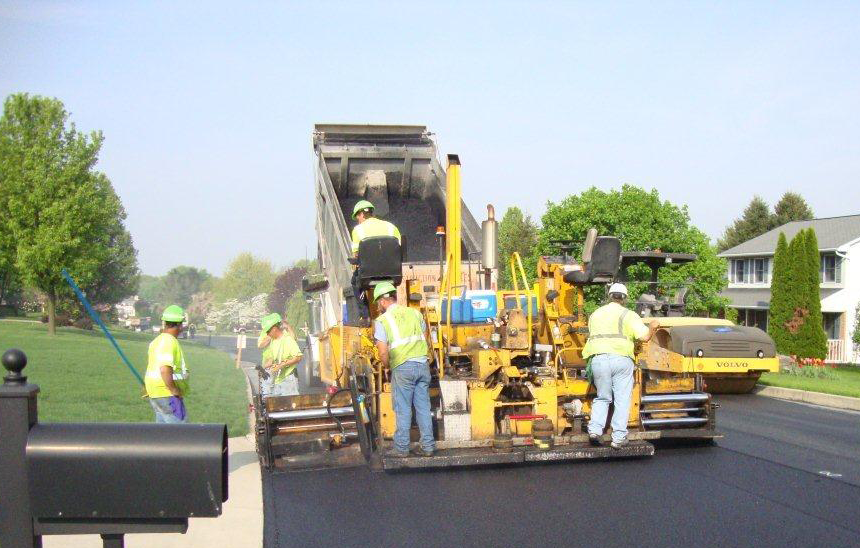 Every year the Township budgets for a number of roadways to be resurfaced. Through annual inspections and consideration of available funds, we determine which will receive a resurface treatment in order to extend the life of the roadway. For many years we've been able to project our needs for the next ten years, but with limitations in funding and increase traffic volume we can only anticipate the next five years.
This year, 2020, will be:
Park Drive
South Railroad Street
South Lincoln Street
South Harrison Street
South Grant Street
South Franklin Street
Total: $407,393 (with pending aid from Lebanon County – $8,068)
Paving is a labor intensive, unpredictable project. Completion is vastly dependent upon weather and timing. Pavement cannot be laid in wet conditions and hot mix asphalt is only produced May through October. Prior to paving, crews prep the roadway in areas where special attention is needed. This can range from raising sewer manholes to milling – removing the top layer – along driveways so that the added material keeps all features on the same level surface.
Once paving crews arrive, residents are expected to have the roadway clear of any parked cars, low lying tree limbs, trash cans, nets, etc. Work can begin as early as 6:00 a.m. and continue until 8:00 p.m. Rarely do crews operate over a weekend, but it has happened if conditions were not optimal during the week. Vehicle access to a property can be restricted briefly during paving or milling operations. We recommend residents take precautions when scheduling affairs around this time of year. We do send out notification to those who may be directly affected: residents, postal service, and waste haulers, but sometimes we only find out from contractors three (3) days before the project is set to begin. Once we have a more definite day the project will begin, project details, progress and notifications of changes in the schedule will be posted on our opens in a new windowFacebook page.
Once laid and the hot mix asphalt has been given time to "cool", vehicles will be permitted back onto the roadway. Although it is now open to traffic, we encourage drivers to be mindful of their speeds and turning radius as they park and pull into driveways. The time for asphalt to cure will be weeks.
Crews will be back around to seal between the curb and roadway, so parking will be restricted once more after paving. Additional facts can be found on this opens in a new windowFrequently Asked Questions document. We appreciate your patience and cooperation as we conduct this one in 15-20 year operation to preserve the roadway.
Other Methods Of Pavement Preservation
Although hot mix asphalt is the preferred method of preservation, it is also the most expensive (average cost per yard ~ $9.00) and some roadways may need surface treatment before enough funds are available for the asphalt. If ignored or made to wait for funds, the roadway will fail and the cost of reconstruction is exponentially larger than any surface treatment. Here's a brief overview of the alternatives:
Microsurface
If a roadway is less than 10 years old and is structurally sound but presents numerous cracks, it would be more feasible to conduct this treatment (just as you would seal your driveway). The product is a mixture that leaves no loose stone behind but is coarser then blacktop and more skid resistant. It will add some strength and ultimately extend the life of the roadway 7-10 years. The treatment can allow traffic within an hour of being laid but will still take a few weeks to fully cure and harden.
Oil and Chip
Asphalt oil is sprayed onto the roadway then covered with small stones allowing vehicles to drive on the roadway while the oil is given time to cure. Over time and frequent traffic the stones will disperse and a smooth sealed roadway will be revealed. It is widely under-appreciated because of the initial nature of driving on the treated surface. Though it provides no added strength, it extends the life of the roadway 5-7 years.
---
Permits
The Township is responsible for the integrity of all dedicated roads and their rights of ways. Therefore anyone doing work in this area must apply for a permit prior to excavation or installation. In the event of an emergency e.g. a water main break; a permit is still required, but recognize that work may be done prior to issuance. North Londonderry Township administers all applications and permits for those noted. Please contact the office at (717) 838-1373 if you need further information.
A Note to Utility Companies and Residents: Township Code §126-25 prohibits cuts or excavations by any person for 5 years after a roadway has been constructed or resurfaced. Thus we alert utility companies of our upcoming Highway Program so that they can take appropriate measures to have new installs or repairs completed before that time. This notification also includes an update to our 5 year projection.

Much time and money has been budgeted to resurface a road, and cuts, no matter how small, can compromise the life of the roadway. If you are looking for new services to your home, we recommend you plan accordingly.
Though roads are a public rights of way, they foremost are an asset to the community and the hundreds of people that travel them every day. No paint, markings or cuts should be made without first receiving permission by the proper authority, North Londonderry Township. Large objects placed in the right of ways, beyond the limits of the paved surface present their own hazards. In other words, sport nets / goals, large rocks, trash cans, brick mailboxes, etc. can become an issue at any given time work is being done along a roadway. The proprietor of these objects would not only be responsible for them, but also any damage the objects may do to Township equipment.
Road Occupancy Permit
Individuals who are excavating or working on above- or below-ground facilities lying within the roadway and its rights of way are required to obtain a road occupancy permit.
Driveway Permit
Individuals who are cutting into the roadway to establish, replace, expand or alter a driveway entrance must obtain a driveway permit. Additionally, a permit is not needed for alterations where ONLY saw cutting is being performed.
Sidewalk & Curb Permit
To be obtained by individuals who are constructing, replacing or removing curb and/or sidewalk running parallel to the street. Exceptions to permitting are made for saw cuts only, where the roadway is not affected, and sidewalks adjoined to a home or garage i.e. not running along the roadway.
Contractors are responsible for establishing line and grade according to Township specifications for all new construction.
Download our Permit Schedule of Fees
Before You Dig…Call 811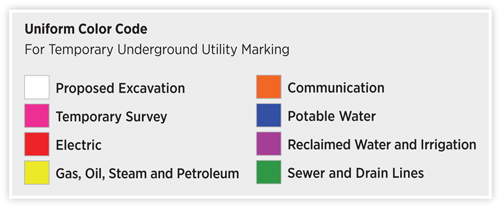 Don't forget, you must call in your location of excavation so all underground utilities can be marked to avoid damage.
---
Traffic Control Devices
Though they often go unnoticed, traffic control devices play a critical role in our daily road safety, especially for those traveling from outside the area. Whether it's the lines and markings on the road surface, signs along the roadside or mounted overhead, or light signals regulating the flow of traffic; their intent is to instruct us when, how and where to drive in order to make it to our destination safely.
Pavement Markings
Though most Township roadways are unmarked, more heavily traveled areas such as North Forge Road and Hoffer Road require annual painting and upkeep of its markings. Street edge lines, center lines and crosswalks are repainted every year with a latex paint integrated with glass beads to provide reflectivity. Other street markings such as turn arrows, stop bars and in some areas, crosswalks, a thermoplastic material is laid. This material can withstand higher traffic flows and snow removal operations allowing them to be replaced every 3-5 years.
Signs & Signals
Drivers may not notice all of the roadside signs in place to communicate approaching details of a roadway such as sharp turns, speed limits and stop signs. The Township is responsible for over 1300 signs and posts. They are inventoried and inspected every year. Regulations are handed down through Federal (Title 75, Vehicle Code & Manual on Uniform Traffic Control Devices-MUTCD) and State (Title 67, PA Code Chapter 212, Official Traffic Control Devices) codes to provide a nationwide standard for the installation and maintenance of all traffic control devices.
A sign is put in place after a traffic study has been performed and a Township ordinance is adopted, whether it's a stop sign, speed limit, or no parking sign. A desire to control speed in a problem area does not warrant the placement of a stop sign. In many cases, frequent stopping actually poses drivers to increase their speeds in order to make up that time stopped. The frequent misuse of signs breeds disrespect and elusiveness to any others needed to maintain safety among roadways.
All signs must remain clearly visible for motorists. Property owners are responsible for keeping any vegetation growing nearby clear of the sign face and post. Also, we encourage the prompt report of any damaged or vandalized sign to North Londonderry Township for immediate repair or the Police Department (717) 838-5276 if caught in the act. Unfortunately, it is often that signs are stolen, defaced or destroyed and the suspects are hard to find afterwards.
Traffic signals are owned and maintained by the Township. They are inspected twice a year from an outside company. The timing and sequence of signals is managed by PennDOT. Any changes must be warranted and approved by them.
All the traffic signals along State Route 422 from South Lingle Avenue at the County line to Center Street in Cleona Borough are coordinated and participate in the Lebanon County Congested Corridor Improvement opens in a new windowProgram. This is managed by the opens in a new windowLebanon County MPO.