Police
Search our North Londonderry Township Police Department page.
---
North Londonderry Township Police Mission
North Londonderry Township Police has a mission to be the model of excellence in policing by working in partnership with the community and others to fight crime, enforce laws while safeguarding the constitutional rights of all people and to provide quality service to all of our residents and visitors. Therefore, in order to protect life and property, prevent crime and reduce fear of crime, the North Londonderry Township Police department will provide service with understanding, response with compassion, performance with integrity and law enforcement with vision.
---
Police Services
Accident Report Request
Any person directly involved in an accident, attorneys and/or insurance companies may obtain a copy of their police report. A fee of $15 must be provided in cash, check or money order to the North Londonderry Township Police Department. Contact the office (717) 838-5276 to make your request.
Autism Form
In order to highlight the growing need for concern and awareness about autism, the North Londonderry Township Police Department recognizes an opportunity to better serve our community by providing an Autism Emergency Contact Form. Please complete and submit this form so the Police Department has it on file in the event a child/adult with Autism is in danger.
Business Contact Form
Officers respond to businesses for many reasons; open doors, alarms, vandalism or simple security checks. If an officer needs to address an issue or has a question about the building we would like to know who to contact regarding your business. Therefore, to help protect your business, we would like to know more about your alarms and safeguards. Being provided with up-to-date information will assist officers with handling any type of incident at your business. All information is confidential. In conclusion, by completing and submitting the information below, officers will be able to access your information in the field for more efficient response times.
Fingerprinting
Police Officers are available, by appointment, to fingerprint individuals for personal or business related requests. Please contact the Police Dept. during normal business hours to make arrangements. We use standard black ink for fingerprinting. Check with the requestor to ensure black ink is acceptable. Some employers/businesses now require electronically submitted fingerprints. We are unable to accommodate such a request at this time.
Township Resident (up to 2 Cards) – $20.00
Non-Resident (up to 2 Cards) – $25.00
Additional Cards – $5.00 each
Upon arriving for your fingerprint appointment, you must show a form of government issued photo identification (e.g. driver's license, passport, photo ID card).

House Checks
Residents may submit a request for a police officer to check the safety of their home while away. A House Check will be conducted every day for two weeks. Beyond that we will monitor the property once a week until you return. You must completed and hand-delivered the form to the police department before any checks can be performed.
If you simply wish to notify us that you will be away without officially requesting a House Check, please contact the police station and speak with an officer. They will complete a report advising the patrol division of your absence. Most importantly, we encourage you to provide an emergency contact in the event of such.
Solicit Permit
A soliciting permit is required for any person engaging in peddling, canvassing, soliciting or taking orders, either by sample or otherwise, for any goods, (services), wares, or merchandise upon any streets or sidewalks or from within a home in the Township. This does not apply to farmers selling their own produce and charitable or philanthropic organizations.
Any person desiring to solicit within the Township must apply for a license at the Police Department. Licenses are not transferable. Each individual must have license. The fees are $25 for one day or $50 for one year. The license should be kept and presented upon request when soliciting. Solicitation is only permitted Monday through Saturday from 9:00 a.m. to sunset. For more information see Township Ordinance, Chapter 100.
Speed Sign
North Londonderry Township Police have a radar equipped speed sign which is used as part of the Township's "Traffic Calming Initiative." The speed sign is capable of displaying and recording speeds as well as counting the number of passing vehicles.
If you would like the speed sign placed somewhere in your neighborhood or along a particular roadway, please contact the North Londonderry Township Police Department at (717) 838-5276 and we will place the sign in the requested location.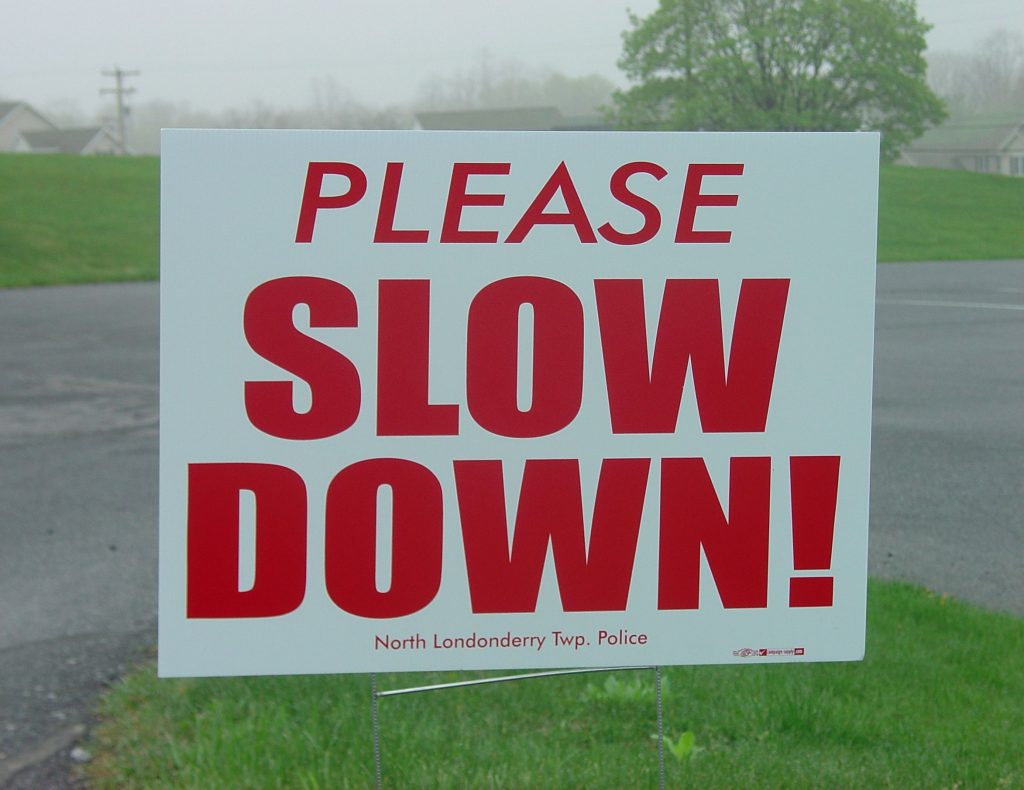 "SLOW DOWN" Signs For Purchase
Signs noting "Please Slow Down" are also available to Township residents. Residents may get them at the Police Department and place them in their yards to deter vehicles from speeding along roadways.
Warning Cards
Warning cards issued by a North Londonderry Township Police Officer are required to be checked and returned within 5 days to the Police Department. Therefore, any police department within the Commonwealth of PA may sign off. Official inspection stations will sign off on equipment violations.
Child Safety Seat Checks
The National Highway Transportation Safety Association knows it's not an easy task to find the right car seat. After all, there are several types of seats – from infant to convertible and booster – depending on your child's age and size. Even after you find the right one, it's important to know how to install your car seat correctly and when to transition your child to another type of seat as your child grows older.
Certified technicians will inspect your child's car seat, in most cases, free of charge – and show you how to correctly install and use it.
Dog License
PA Law requires all dogs three months or older to be licensed by January 1st of each year. As a result, violators can be cited with a maximum fine of $300 per violation plus court costs. A yearly license is less than $10! Lifetime Licenses are available and discounts are extended to seniors and persons with disabilities.
Medication Drop-Off
North Londonderry Township Police Department has a collection box in the lobby for expired or unused medications. Drop-off medication from 8:00 a.m. to 4:30 p.m., Monday through Friday. Bring in their original containers with personal information blacked out or removed. No fee or identification is necessary to make a drop-off.
Items acceptable for drop off include: prescription or over the counter medication, vitamins, medical creams, pet medicines, and vitamins.
This drop off location does not accept intravenous solutions, needles/syringes, thermometers, alcohol, hydrogen peroxide, or loose pills. For a full list of items, see the label on front of the drop-off box.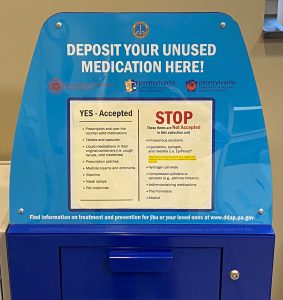 Scams
Visit the internet crime complaint center website for information on scams.