Sewer Billing
Navigate this page via search or the table of contents.
---
Sewer Bill Breakdown
How often are sewer bills issued? Sewer bills are issued monthly.
How will I get sent my sewer bill? The bill will be mailed via USPS – expect to receive it around the 10th of the month
When is my sewer bill due? The due date is noted on the bill (non-receipt of a bill does not exclude the obligation of payment).
Online sewer bill notifications: You may opt to receive notifications via email when new bill is issued – sign-up on

opens in a new window

Customer Portal.
A property owner may elect to have a duplicate copy of the bill sent to a rental property for attending resident.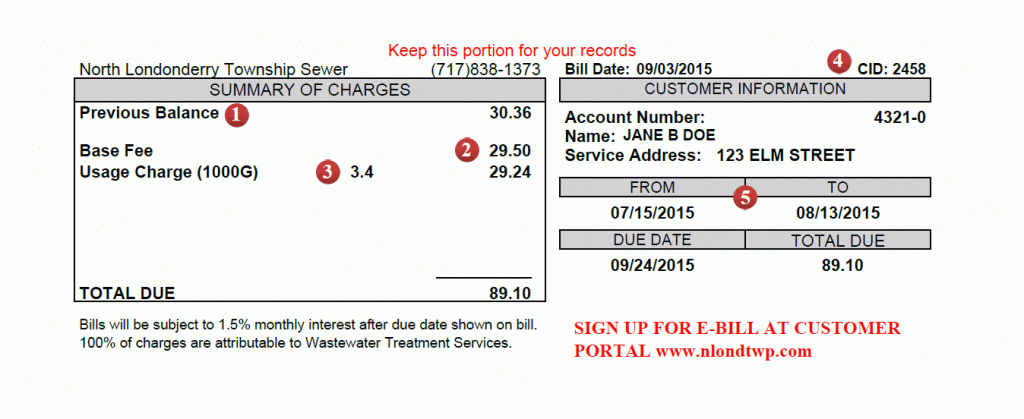 Previous Balance: A sum of outstanding charges from prior billings, including a 1.5% interest charge for late or non-payment.
Base Fee: A monthly fee of $29.50 to cover maintenance of the collection system (pipes, pumping stations and treatment plant). This fee is issued to all public sewer customers and does not cease for any reason. Therefore, the owner is responsible for payment of these charges.
Usage Charge: Based upon monthly water usage, charges for treatment are $9.58 per 1,000 gallons.
CID: Used to create an account on the Customer Portal. Here you can make payments and monitor your account.
From Date – To Date: The range of your monthly water usage. Pennsylvania American Water reads water meters in the Township around the middle of the month. After that, they provide the Township with the readings to bill appropriately for what has entered the sewer system.
Any questions regarding your bill or payments, please contact the North Londonderry Township Office, Monday – Friday, 7:30 a.m. to 4:00 p.m. at
(717) 838-1373.
---
Payment Options
Mail check or money order to:
North Londonderry Township
P.O. Box 605
Palmyra PA 17078
(please include top portion of bill or note account number on payment)
Payments are NOT accepted at the Township Office.
Establish monthly automatic withdrawal from a checking or savings account prior to next billing – complete and submit form

opens PDF file

to the Office.
Submit one-time payment via Customer Portal with credit card (finance charges apply) or bank account.
If you establish payment through your financial institution, please make sure you've noted the account number. We do not receive these payments electronically. Therefore, it is best to allow adequate time for a check to be processed and mailed.
If you received a delinquent notification/certified letter, please review the letter for alternate payment options.
---
Moving, Buying or Selling?
If a settlement company is handling the transaction paperwork for a home sale, buyers and sellers need to contact the Township Office regarding a final sewer bill. The settlement company should make contact with us a few days before settlement to determine an escrow amount.
Sellers: The settlement company will collect an estimated dollar amount from you at the time of settlement to cover your final sewer bill. As a result of determining the final amount used from PA American Water, the settlement company will issue payment to North Londonderry Township for Final Sewer Payment. The difference, if any, from the amount held in escrow should be returned to you by the settlement company.
Buyers: Since sewer bills are issued a few weeks after water readings, you may not see a bill right a way if you moved in toward the end of the month. We do encourage you to call the Township Office if you are unsure because non-reciept of a bill does not exclude you from payment.
*Buyers and Sellers need to contact the Township Office regarding Final Sewer bills or to setup accounts for the purchase of an existing home account. Therefore, we recommend contacting the settlement company to verify this process.