Recycle and Trash Collection
Table of Contents | Click to navigate sections on this page
---
North Londonderry Township provides TWO curbside services to residents, the chipping of trimmed branches and collection of fallen leaves. During these two services, no appointment or additional fees are necessary.
A resident who chooses to participate in the collection should have their yard waste prepared as instructed and curbside by 7:00 a.m. the day of collection. However, if this collection day falls on a holiday, crews will operate the day after.
If weather is uncooperative or time does not permit route completion, crews will resume the next available day. Likewise, when snow is in the forecast please place items out for collection using your best judgement. Covering or burying waste will result in canceled removal.
Various other waste items are recyclable and collected throughout Lebanon County. Visit the corresponding tabs below for more information on these services. opens in a new window2020 Mailer
---
Tree Trimmings & Christmas Trees
First Monday of every month for 2020:
January 6
January 20
February 3
March 2
August 3
September 8
October 5
Branches from one (1) to three (3) inches in diameter, of any length, as well as small shrubs will be collected. As long as the thickest part of a branch falls within diameter limitations, there is no need to trim further. The longer and fewer the pieces the safer it is for crews to hand feed branches into the chipper and ease of street clean-up. Trimmings are to be from maintaining the overall health of a tree and small shrubs must have their root balls removed. In addition, please do not commingle with any other yard waste or debris. Items will be tagged and left if they are not within the realms of the policy. See the Compost Site for alternate disposal of other yard waste.
*This program was established to assist residents with minimal work, not to interfere with free enterprise. So unfortunately, waste created by a commercial entity will not be taken. If you are having a tree removed, the waste must be disposed of elsewhere.
Do not put branches in the street! Place them along the front curb line with the cut ends angled in the direction of traffic as seen in the picture. There is no need to tie or contain these items in any way but a neat and orderly pile is graciously appreciated for ease of processing. Please keep piles far enough from parked cars, intersections and other roadway obstructions for crews to access the trimmings with ease.
Place Christmas trees along the curbside for any one of these collection days. To be collected, they are to be free of any wire, ornaments and other attachments.
---
Leaves
SPRING Collection Days
March 23 – April 3, 2020
FALL Collection Days
October 12 – December 11, 2020
Place leaves in long, narrow piles in the street, along the curb-line. Residents that do not have a curb should keep them on the property but as close to the roadway as possible without interfering with traffic. These piles can be gathered to a maximum of three (3) to four (4) feet wide. Please leave space for any rainwater to flow to catch basins and remove any leaves that have migrated to prevent clogging or reduce the potential for localized flooding. The collection equipment will need room to operate so a distance of 15 feet from parked cars, intersections and basketball nets is required.
Do not mix leaves with any other yard waste (sticks, nuts, pine cones, dirt, etc.), a vacuum is used to pull the leaves up into the truck. Anything other than leaves can damage this machine and please remove any tarps by the morning of your collection day.
Find your location within the map below.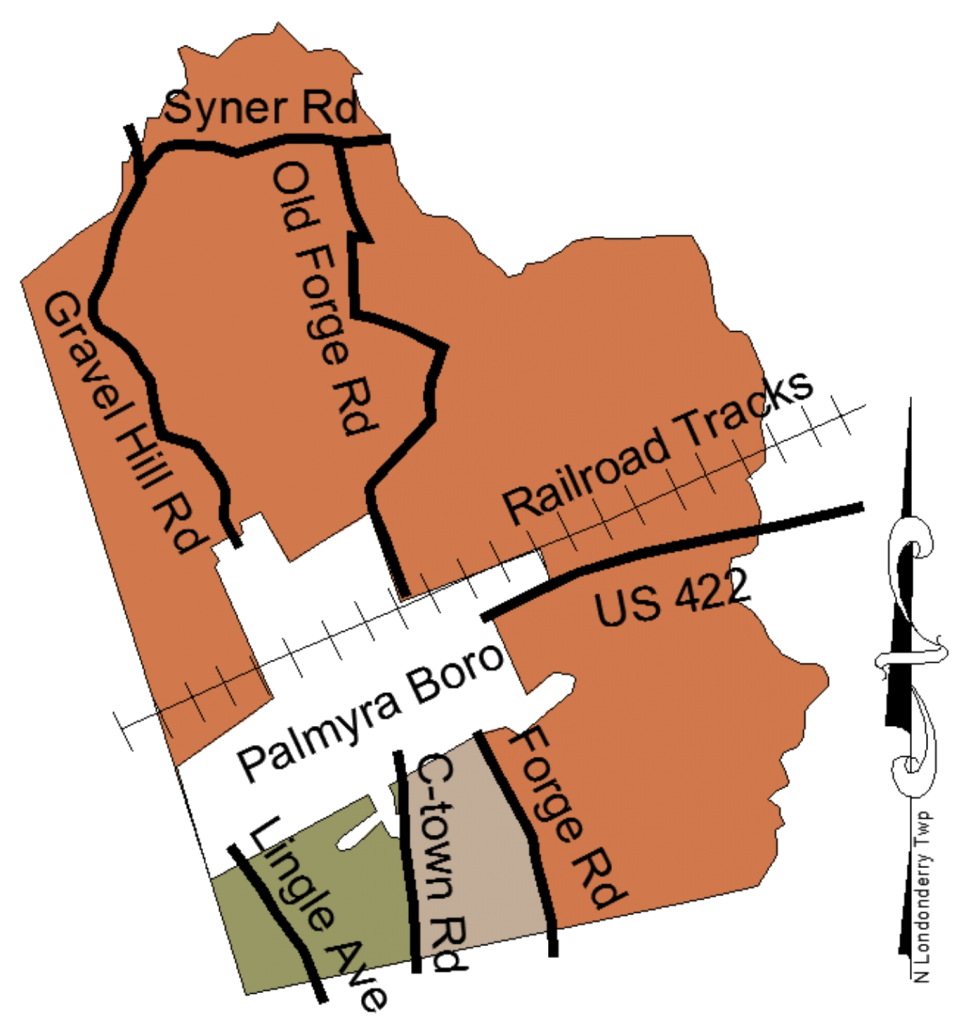 Orange, Monday – Residents residing north of Route 422 & south of Route 422, east of South Forge Road
Tan, Wednesday – Residents residing south of Route 422, between South Forge Road & Campbelltown Road
Green, Friday – Residents residing south of Route 422, west of Campbelltown Road
---
Household Trash
Collected by a Private Hauler
Check with your opens in a new windowwaste hauler for an exact list of the items they collect, preparation instructions for the items and when they pick-up. Residents have the liberty to do business with any hauler permitted to operate within the Township boundaries. Although, residents who belong to a homeowners association should verify if an agreement exists that has only one of these haulers picking up in your neighborhood. All haulers are required to collect the following recyclables:
Food & Beverage Containers made of:

Glass – Clear, Brown and/or Green
Aluminum
Bi-Metal and/or Ferrous Metals
Plastic Bottles & Jugs
Newspaper – Clean and Dry, No Food Contact
In addition to the above items, commercial, institutional or industrial establishments must also separate and recycle the following items:

High Grade Office Paper
Corrugated Cardboard – Dry and Flattened, No Food Contact
Yard Waste
Collected by North Londonderry Township
In conjunction with the curbside collections, the Township Compost Site takes grass clippings and garden residue. Visit the full page for further information.
Electronics
Collected by Greater Lebanon Refuse Authority (GLRA)
There are various internet outlets that may give you cash for electronic devices. But, if it's older or you'd rather opt for a quick disposal method, a free drop-off site is available to Lebanon County residents. The opens in a new windowGLRA website has their hours and a list of acceptable devices eligible for disposal. Residents with ten (10) or more devices MUST call ahead to schedule a time to drop-off these items.
Household Chemicals & Hazardous Waste
Collected by WM Curbside, LLC – contracted through GLRA
Dispose of old lawn and garden chemicals, automotive fluids, paints, pesticides, poisons, etc. through this curbside collection. Otherwise, a $15 co-pay, Lebanon County residents may arrange for a home pick-up of hazardous household waste. For our community, assistance is available for elderly and/or disabled residents, just voice your limitations when scheduling your pick-up. This service can only be used once a year.
opens in a new windowLEBANON COUNTY HOUSEHOLD HAZARDOUS WASTE HOTLINE, CALL 1-800-449-7587
Pharmaceuticals
Collected by North Londonderry Township Police Department
A collection box for expired or unsued over-the-counter medications is available in the lobby of the Police Department from 8:00 a.m. to 4:30 p.m., Monday through Friday.
Pharmaceutical drugs can be just as dangerous as street drugs, leading to accidental poisonings, overdoses and misuse. When flushing these types of materials, they will poison the water supply or could be retrieved from containers to be further abused or sold illegally if trashed. In other words, it is dangerous to dispose of these items in the typical way you would get rid of trash. Additionally, please protect yourself and your family by removing all labels that contain personal information prior to disposal.
Accepted

Prescription
Prescription Patches
Prescription Medications
Prescription Ointments
Accepted

Over-the-counter medications
Vitamins
Samples
Medications for pets
Not Accepted

Needles (Sharps)
Medication from Businesses or Clinics
Ointments, Lotions or Liquids
Aerosol Cans
Not Accepted

Inhalers
Hydrogen Peroxide
Thermometers
Tires
Collected by Lebanon County – Penn State Cooperative Extension
The next collection event will be on Wednesday, November 4, 2020 from 8:00 a.m. to 6:00 p.m.
Open to all residents of Lebanon County, a number of municipalities, including North Londonderry Township, sponsor the event so that their residents may drop-off tires free of charge. Attendees must provide proof of address and are allotted 12 auto or 2 large (or a mix of 1 large and up to 6 auto) tires. As a result, any additional will be accepted at $3 per auto tire and $25 per large tire (rim diameter is 25 inches or greater). In addition, tires are also accepted with a fee by tire related businesses and out-of-county persons. All tires must be off the rim, drained of water, and not excessively dirty or burned. opens in a new windowPreregistration is encouraged to avoid long lines. Municipal funds are limited so it's best to reserve for your tires before they run out. Registrations are first-come first-serve.
Shredding Of Sensitive Documents
The shredding of sensitive documents event will be on Saturday, May 8, 2021 from 9:00 a.m. to 10:30 a.m, rain or shine.
The annual community wide Shred Event is open to residents and businesses of the Palmyra Area School District, free of charge. During this event, a nationally certified on-site information destruction shred truck shreds your sensitive documents. This event tends to run for a strong 1 ½ hours on a Saturday morning in May. This year, the event will be on Saturday, May 8, 2021 from 9:00 a.m. to 10:30 a.m, rain or shine.
The drive-thru nature allows us to quickly move residents up to the shred truck as volunteer Township employees assist with unloading documents and transporting them to the truck. Therefore, a side mounted video screen to accomodate residents who wish to monitor their documents to the point of shredding. Otherwise, if progress gets backed up, documents are placed in lockable containers until the truck is available.
Please be aware the truck will only arrive at the scheduled time. No discs or credit cards, only paper documents with paper clips or staples will be accepted. So, any material other than that may damage the machine and reduce the purity of the paper for recycling purposes. Please remove papers from binder rings and clips. Please take the time to go through your documents and only provide those that contain confidential information. Otherwise we have a roll-off container outside the compost site for all other paper products.
---
Identity Theft And Privacy
Why Shred?
"Dumpster diving," or rifling through trash cans for personal information, is a tactic used by identity thieves. You are taking a terrible risk if you don't shred sensitive material.
Invest in a shredder for your home or office, preferably one that "cross cuts" (slices in two directions), and destroy all sensitive information including bank and credit card statements you no longer need, carbon-copy charge receipts with your account information, insurance forms, physician bills, etc. If your shredder can't handle plastic, use scissors to cut up expired credit and identification cards before discarding them.
For larger jobs, consider hiring a commercial shredding company or take advantage of a community shred event.
What Should I Shred?
In short, destroy all sensitive information including junk mail and paperwork that includes:
Account Numbers
Birth Dates
Passwords and PINS
Signatures
Social Security Numbers
To protect your privacy, you should also consider shredding items that include:
Names
Addresses
Phone Numbers
E-mail Addresses